I recently just finished a inspirational book titled,
He Saw a Hummingbird
by husband and wife duo, Norma Lee Browning and Russell Ogg.
The story is about the professional photographer Russell Ogg, his diabetes, and his wife Norma Lee Browning overcoming the odds and unknowingly engineering a "miracle" with the help of a little hummingbird.
Russell, a professional photographer (with severe diabetes) by trade worked for the
Chicago Daily News
. He had quit the
Chicago Daily News
and started freelancing as a special assignment photographer to accompany his wife's articles for the
Tribune
with whom she worked for. The nature of their journalism jobs required them to travel extensively throughout the world. Their home was filled with treasures from their excursions. They were very successful in their own fields.
During this new phase in this dynamic couple's life, Russell began having very severe diabetic health complications. As a result, he retired with his wife in Palm Springs, CA. He ended up losing much of his vision, therefore becoming legally blind.
Now to a man who makes his living taking pictures, it seemed to be a death sentence to him and perhaps to his wife. As a photographer, you learn to see life in a different way, exposing yourself to the nuances of life's simplicities and complexities from different angles and perspectives.
It seemed that Russell was at first determined to not sit by and stare into space all day withering away his life by despairing. Unfortunately, Russell quit photography all together and became depressed and despondent with the countless ophthalmology and doctor visits and not being able to see well.
His wife became anxious at how his quality of life and the fruitfulness of their livelihood were waning. They could no longer travel like they used to. He had to learn how to navigate being blind. Russell could not take pictures much less do anything else. It seemed like this was the end of the story of his active career. Until one day.....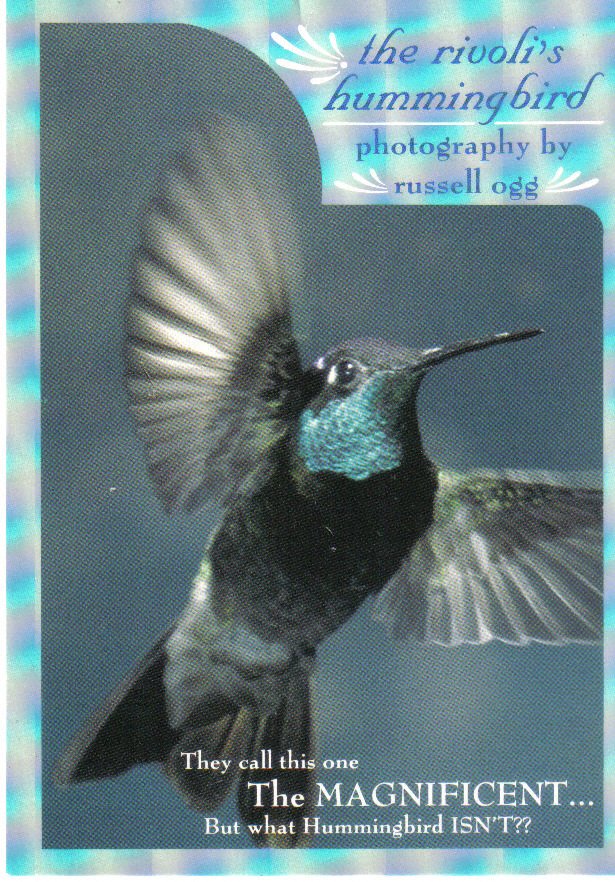 In sunny and balmy Palm Springs, Russell used to sit on the back patio of their home. A hummingbird used to come by every day. The hummer would even sit on his shoulder at times. He thought he had no vision, but he could see enough of the iridescent colors to know what it was, and tried to photograph it.
He fortunately saved a camera when he gave away his photography equipment and pulled it out for a shoot.
His first attempts at photography while essentially blind, were crude at best. He was a very adept engineer in his abilities to fix and to make items out of almost anything. He used this ability to create a hummingbird feeder and then shortly after, a "seeing eye" camera system. He was able to make a camera that worked independent of him, meaning that there was a beam of light and if it was crossed, an appendage of relays and wires would set off the shutter.
With many improvements, he was able to capture many photos of hummingbirds. He had to learn how to develop pictures while blind. He learned to "see" through his senses. His wife noticed a transformation in him. He had a purpose during this time of darkness. He threw his entire self into this new "hobby" of his. Soon he was gaining notoriety for his astounding images.
He was sought after by art dealers and art showers. He begrudgingly accepted a showing of his photos only on the basis that he was worried that people might look different at his pictures because he was blind. His wife and their close friends were there to help him out with everything so as to not make him and others feel awkward. It was a great success.
Norma recounts her errors, trials and persistence in identifying the little birds. She threw herself into this endeavor with a passion that matched her husband's. The dynamic couple was back in action. Russell found meaning in life and with the help of a little hummingbird, it seemed like a miracle to many.
The physical makeup of a hummingbird baffles many biologists and birders alike. Technically, it shouldn't even be able to fly, but it does. Russell is technically and legally blind, but he is able to see just enough- the iridescence of these birds, and he is able to photograph them well.This story of Russell's unbeatable spirit and the persistence of the hummer are inspiring to many and I hope it's inspiring to you, the reader, as well.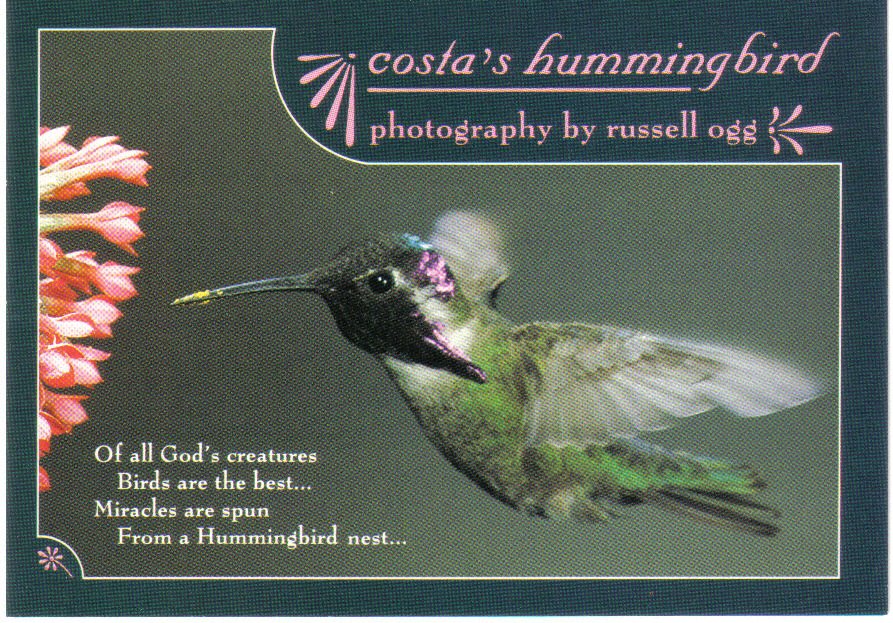 "Often as I stand watching in tiptoed wonder at the sunburst explosion of his inner powers beyond seeing, I ask myself the same questions others have asked: How can he doe this? How is it possible? Then I remember, Hummingbirds can't fly but they do. And so it is with him.
Who can explain how miracles happen? Who can explain birth or rebirth or an awakening of the spirit and mind? Who knows why or how a new self is born in a man because he suddenly saw a hummingbird?"